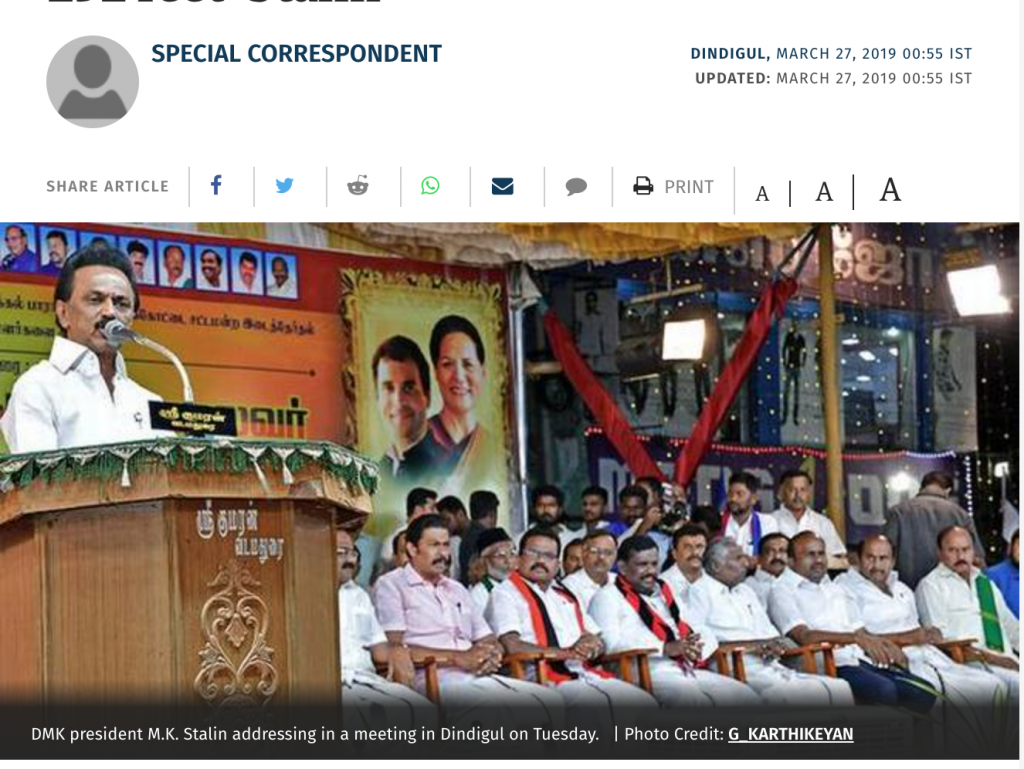 Promising to raise the water storage level in Mulla Periyar dam to 152 feet, Dravida Munnetra Kazhagam (DMK) president M.K. Stalin described the AIADMK rule in Tamil Nadu as "non-performing government" here on Tuesday.
Speaking at a well-attended public meeting to seek votes for the DMK candidate Velusami, contesting on behalf of the DMK for the Lok Sabha seat from Dindigul and C Soundarapandian from Nilakottai by-election to the Assembly, Mr. Stalin took a dig at the State government for drastic fall in each and every sphere.
"The Chief Minister, Deputy Chief Minister and Ministers have ruined the State by doing nothing…There is no development. The State is going backward in every sector. The DMK will put an end to the corrupt regime of the AIADMK soon," he added.
Explaining the salient features of the party's manifesto released a few days ago, he said that the DMK was committed to the poorest of the poor sections in society.
"We will do everything possible to improve their standard of living," he said. Be it weavers or farmers or unorganised workers, the party would be sincere in its efforts and implement the manifesto, if elected to power. Certain promises made in the manifesto would be taken up with the Centre and recommend for implementation, he clarified.
He also took a dig at the Pattali Makkal Katchi founder S. Ramadoss for conveniently forgetting all the charges levelled against the AIADMK government by him and how the party had now joined hands with the AIADMK in the election.
"The people should teach them a fitting lesson. Time is ripe now to show them the door," Mr. Stalin said amidst applause from the gathering. On behalf of the AIADMK alliance, the PMK is contesting in the Dindigul Lok Sabha constituency.
The DMK, he said, would keep its promise and recalled the late Karunanidhi's words: of "Solvathai Seivom, Seivathai Solvom" and as the son of Mr. Karunanidhi, he took a pledge to continue to walk in the path of the late leader and guide Tamil Nadu in the right direction.
Earlier, Mr. Stalin went around the main thoroughfares in the constituency seeking votes for the DMK candidates. Former Minister I Periasami and other leaders also accompanied him.